There are no more items in your cart
Shipping

Free

Total

BDT 0
 
Software Radio RTL2832U + R820T2 RTL-SDR ADS-B DVB-T DAB SDR Receiver
Software Radio RTL2832U + R820T2 RTL-SDR ADS-B DVB-T DAB SDR Receiver
Store Pickup Available!

Free Ship Over 5000 BDT

Quality Product

No Warranty

No Replacement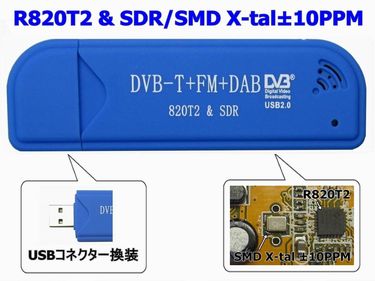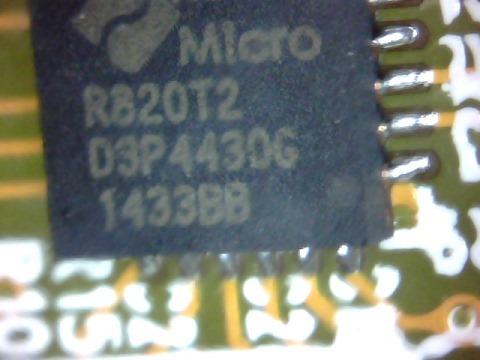 What is the difference between the RTL dongles
RTL2832U FC0013B 22 - 1100 MHz (Frequency and antenna conector)
RTL2832U R820T 24 - 1766​ Mhz (frequency and anenna conector)
This RTL2832U R820T2 25 - 1766​ Mhz (frequency antenna conector better noise floor about 6dB lower, slightly better sensitivity, Sample Rate up to 10MHz (But USB will limit you throwput to about 3.2Mhz)
The T2 has different intermediate frequency filters allowing for wider IF bandwidths and apparently slightly better sensitivity (a few dB lower noise floor?). For rtlsdr dongles this difference in IF filter bandwidth usually doesn't matter much since all of them are larger than the RTL2832U's debug/SDR mode bandwidth of ~3 MHz. But there are certain situations where a larger tuner bandwidth is advantageous: such as when using Jowett's HF tuning mod.
The DVB-T dongles is based on the Realtek RTL2832U and can be used as a cheap SDR, since the chip allows transferring the raw I/Q samples to the host, which is officially used for DAB/DAB+/FM demodulation. The possibility of this has been discovered by Eric Fry (​History and Discovery of RTLSDR). (With the nessary software and antenna you could listen to the following frequensies 48.25-863.25 Mhz.
Officially the RTL dongle dokumentation only specify the frequency range "48.25-863.25 Mhz" but the one's I have tested do work from about 24MHz to 1766MHz with a dead spot just above 1.2Ghz
If you want to no more how to configer and install the RTL dongle read more on the blog http://zr6aic.blogspot.com/search/label/RTL2832U and http://zr6aic.blogspot.com/search/label/rtl_tcp
To see this RTL dongle in action go to my webSDR at http://zr6aic.giga.co.za:8901 the 2m band is using RTL dongle.
It has an MCX antenna connector, which is not really popular so you will need adapter if you want to connect to external antenna.
Windows SDR# software is avalible here
​This image show the difference in sensitivity and filter.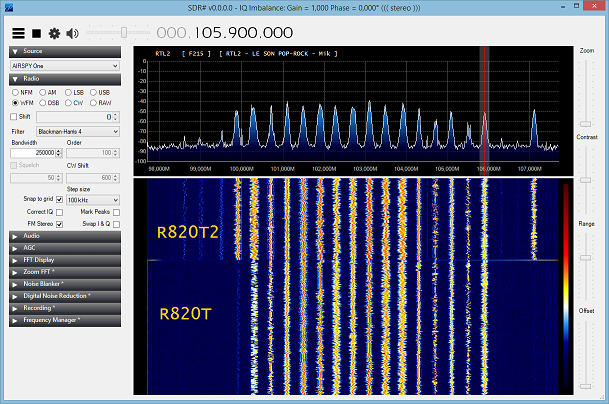 Linux Quisk software.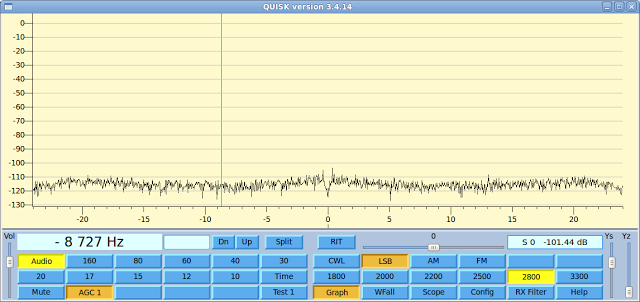 Quisk is available here
Click on Youtube video below to see the RTL dongle in action
​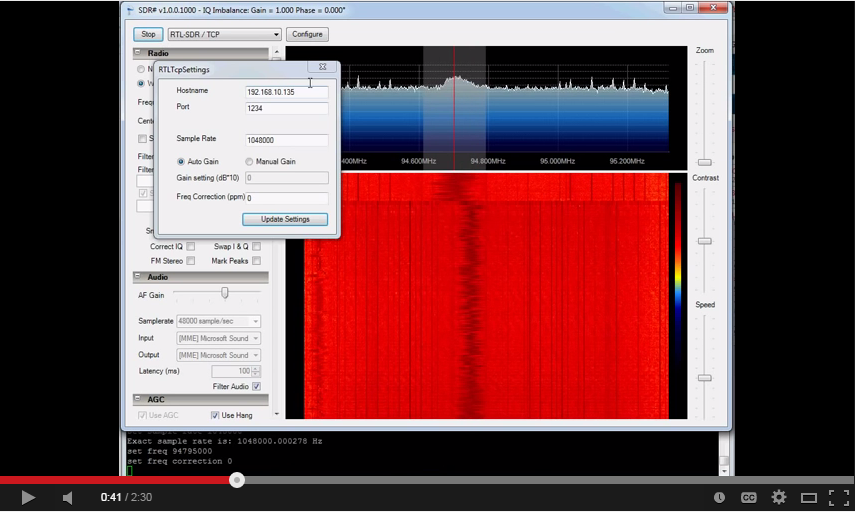 Gqrx On Linux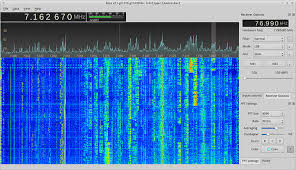 Installation instructions here​
DVB-T + DAB + FM RTL2832U + R820T2 Support SDR Tuner Receiver Mini Portable Digital
Features:
Supports Digital terrestrial video and radio program recording (records digital terrestrial TV on PC or Laptop). The included Input Terrestrial Antenna will offer stable TV signal. Supports Real Time digital video recording and broadcasting. Supports Watching DVB-T digital TV and listen to DAB and FM radio. Full DVB-T bandwidth reception (at 6 / 7 / 8MHz) Supports Still image snapshots and PIP (Picture in picture) function. Can Schedule recording using the built-in Scheduler and Time-shifting function Digital TV recording and playback as DVD quality Support both MPEG-2, MPEG-4(H.264) encoding Support multi-picture display Support EPG (Electronic Program Guide); Support Teletext Support Microsoft BDA drivers Supports Remote control Support Systems: Windows 2000/XP/Vista/WIN7/WIN8 System Requirements: CPU: Pentium IV 1.8 GHz or above Operation System: Windows2000 SP4, Windows XP SP2/W7/W8 (Desktop, Notebook, etc) DirectX9.0c or above Memory: 128MB 500M of available hard disk space or above CD-ROM Drive USB2.0 Interface.
RTL SDR is generally completed by two chips, one is called a tuner, and the other is a demodulator. The function of tuner is to amplify, downconvert, filter, etc. the signal of the specified frequency and bandwidth, and send it to the demodulator chip. The demodulator chip first digitizes the signal by A / D sampling, and then performs corresponding arithmetic processing according to the TV system to be received, and outputs information such as video stream, sound, and data broadcasted by the TV station. Because the working frequencies of various systems are different, in order to make the chip manufacturer able to put it into production many times and use it for a long time, they will design the tuner chip to cover a wide frequency band and set different receiving bandwidths. Then, according to user needs and government radio regulations, certain frequency bands are turned on in different products, and certain frequency bands are disabled. If the tuner is cracked, then there is a way to enable the receiving capability of all its frequency bands, including receiving aircraft signals at 1090MHz. The demodulator in the TV stick cannot of course demodulate the signal transmitted by the aircraft, but the demodulator performs A / D sampling on the signal sent by the tuner. This sampling function is necessary to demodulate any signal, and of course it can also be used to Demodulate the signals emitted by the aircraft. By cracking the RTL SDR driver, the signal of the tuner is digitized by the stripper for A / D sampling and then sent directly to the computer through the USB interface, so that we can process the original tuner signal sampling on the computer, that is, use the computer software to demodulate Tasks. The above method of demodulating communication signals using computer software is the so-called "Software Defined Radio" (SDR). In fact, the research and development of software radio technology has a history of several decades, originally originated from the multi-standard radio project of the US military. At present, software radio technology is widely used in the mobile communication systems that we use daily. For example, the signal processing in base stations is largely completed by programmable FPGA and DSP. Tuning method (except for a few modules with a large amount of computation and high real-time requirements, such as turbo decoders, spread-spectrum correlators, etc., these modules often embed some highly customized "hard" cores in the baseband processor to implement) Later, these foreigners developed a lot of USB peripherals based on this chip, which are specially used to play SDR, collectively called: RTL-SDR DONGLES.
RTL2832U & R820T Tuner, MCX Input. Low-Cost Software Defined Radio Compatible with Many SDR Software Packages I did a little informal testing between the two sticks using SDR Sharp using the supplied whip antennas. These tests were just to take a look at the real world performance between the chipsets on some commonly used frequency range. I am sure that at some point someone will do some more accurate testing, but these real world listening tests will at least give you a rough idea of the differences between the two DVB-T sticks. Here is a synopsis of the results. FM Broadcast Band The E4000 seemed to be noticeably more sensitive in this area. The R820T did fairly well also, but the E4000 definitely did a better job with very weak signals. This might make the E4000 a better candidate for use with a HF converter since most of the inexpensive ones available convert HF to the FM band on the RTL2832U sticks. AirBand Both sticks exhibit a lot of susceptibility to RFI in this band in my environment. Both failed to pick up a weak ASOS signal at 132.875MHz that I can usually receive on most scanners with a whip antenna. Both sticks will do much better with an external antenna and both will receive stronger nearby aircraft signals easily with the whip. Overall the two sticks were fairly close in performance with a tiny edge going to the R820T. NOAA Weather Band Both sticks were able to receive the local NOAA weather broadcast at 162.400MHz with their whip antennas with no problems. Again the R820T was slightly stronger. 800 MHz Trunking This is where the R820T really began to become noticeably more sensitive. While the E4000 could receive the same signals, the R820T signals were noticeably stronger and clearer. 1090MHz ADS-B Aircraft Navigation Signals Here the R820T totally "wipes the floor" with the E4000. ADS-B signals were tremendously better with the R820T. This makes the R820T a much better choice to use as an inexpensive ADS-B receiver with gr-air-modes. 10 Meter Amateur Radio Band The E4000 cant go here, but the R820T can. Actually the R820T can do a fairly good job with signals here. However, the R820T is not going to compete with a competent HF radio. Just consider it as a "bonus". At the the end of the day, I would have to declare the R820T the victor in this shootout, if you are willing to give up a little performance tradeoff in the FM Broadcast band. The R820T appears to become a tad more sensitive starting around 160MHz with larger gains the higher you go. The R820T seems much better suited for monitoring higher frequency signals such as 800MHz trunking systems and most definitely ADS-B. Also you do get additional coverage from 24MHz to 30MHz.
30 other products in the same category: